Advanced Data Analytics
CleMetric combines expertise in computer science, and data analytics to ask relevant questions, think bigger, push further out and deeper down to transform businesses and government agencies.
Data Analytics
CleMetric bridges the gap between data, process, and people through advanced analytics.  Our software platform is infused with cutting-edge, novel algorithms that help uncover insights from complex data structures. CleMetric streamlines the data integration process to create descriptive and predictive models based on large volumes of data.
Streaming data

Connecting with virtually any data source whether structured, unstructured or streaming, and integrate with Data2iQ's AI and ML engine.

Intelligent bots

Acquiring relevant information through automated processes, reasoning, self-correction, and rules for using the information and for reaching conclusions

AI & AutoML Engine

Utilizing AI & AutoML to generate a data analysis pipeline that include pre-processing and feature selection with model formulation that optimizes result.

Visual discovery

Displaying trends, trajectory and insightful results from the analysis of a multitude data points from large volume and high velocity of data.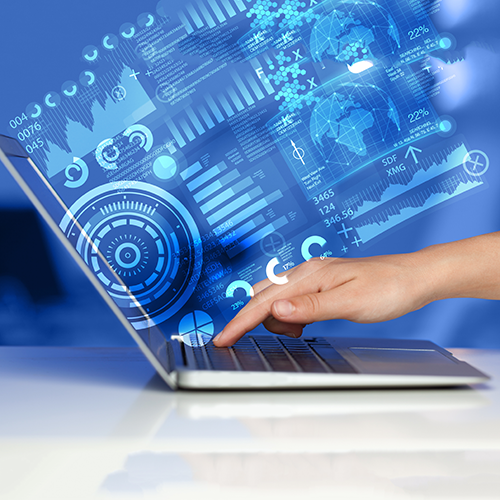 CleMetric automates the entire modeling lifecycle for stakeholders to build data pipelines, train and generate machine learning models, and share insights with the business from the same unified and interactive workspace environment.
Real-time Data Collection and Exploration

Data2iQ collects and explores data in real-time using interactive streams and library searches of a multitude combinations of algorithms, data cleansing, and data tuning parameters to produce the best fitted machine learning models for the dataset and prediction. The platform supports various programming languages.

Fast, Accurate, Interpretable AI

Data2iQ is equipped with automatic AI recipes in a box for solving a wide variety of use-cases. In addition to automatic machine learning to find and tune the right ensemble of models, the Data2iQ distributed architecture is capable of running thousands of iterations that drive utilization to achieve best performance.
Data Agnostic Bots and Collaboration

Data2iQ supports all common database and file types to explore and model big data for various industries and use cases. Data2iQ can be installed and deployed in the cloud, on premise, on workstations, servers, or clusters, allowing for real-time collaboration while tracking changes with detailed revision history.

Visual Analytics

Data2iQ scores new data against various models for accurate predictions in any environment. The platform provides a rich visual interface and dashboards to display insights through a wide variety of point-and-click visualizations. It allows stakeholders to share insights with colleagues and customers, or to execute interactive queries within dashboards.
Email
administration@clemetric.com
Address
University Research Park
505 S. Rosa Rd, Suite 119
Madison, WI 53719
Healthcare Data Analytics
Real-time patient situational awareness to enhance decision-making.